KALAHAN DENG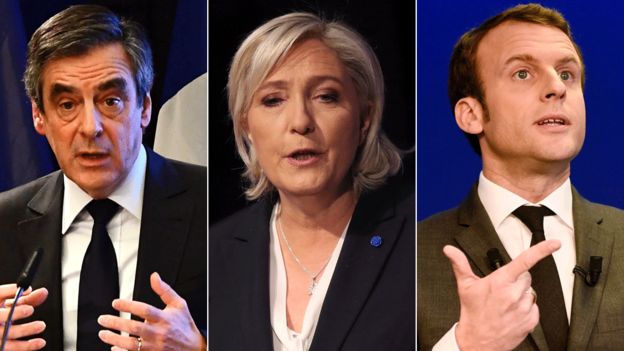 France's governing Socialist party is set to choose its candidate for the presidential election in April.
Manuel Valls, a former prime minister, and left-wing Benoit Hamon are both contesting the run-off vote on Sunday.
But sitting President Francois Hollande, who also comes from the Socialist party, is deeply unpopular and likely to affect their chances.
Conservative Francois Fillon, right-wing Marine Le Pen, and centrist Emmanuel Macron lead the polls.
Sunday's Socialist primary has seen Mr Hamon, 49, suddenly surge in popularity with a range of liberal proposals, including a proposal for a universal monthly income for all citizens.
Mr Valls, however, contends that his experience as prime minister between 2014 and 2016, as well as his previous ministerial experience, make him a superior candidate.
Both emerged from a seven-way primary last weekend to enter the run-off race.
But polls suggest neither is likely to retain the presidency for his party.
Mr Hollande, facing extremely low popularity ratings, announced in December that he would not run for re-election.
The presidential race has taken a turn in recent days, with the favourite for the post, Francois Fillon, becoming embroiled in a controversy over payments to his wife for political work – which a French publication claimed there was no evidence she carried out.
Mr Fillon denies the allegations, and said he would drop out of the race if there was enough evidence to launch an investigation.
The scandal could potentially be a boost for Marine Le Pen, the anti-immigration hardliner who has pledged to put "native" French people first.
For years, France's established parties have drifted to the centre ground and voter apathy has grown – which may explain the emergence of Mr Hamon as a contender in Sunday's Socialist primary.
If he wins, the main left-wing party will once again embrace its traditional positions on workers' rights, redistribution, civil liberties and the environment.
That would likely affect the other candidates – potentially diverting centrist votes to liberal former banker Emmanuel Macron, whose growing popularity is starting to worry Marine Le Pen's party, the National Front.
But while Sunday's vote will choose a candidate for the Socialists, the true presidential election does not take place until 23 April.