KALAHAN DENG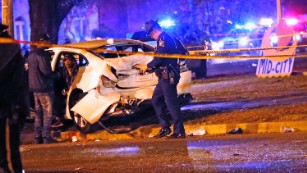 One man is in custody after an accident at a Mardi Gras parade in New Orleans injured at least 28 people, five seriously, officials said.
Police Chief Michael Harrison said the suspect, who was driving a pickup truck that hit two cars before running into the crowd, appeared to be highly intoxicated. Among the injured, the youngest is 3 and the oldest are in their 40s.
None of the injuries was life-threatening, officials said.
The New Orleans Police Department arrested Neilson Rizzuto, 25. He has been charged with two counts of first-degree vehicular negligence resulting in injury, and one count each of reckless operation and hit-and-run driving.
The incident occurred near the intersection of Orleans and Carrollton Avenues where the Krewe of Endymion parade was underway.
Here are the latest developments in this story:
• A total of 21 people were hospitalized, including one female police officer. She was in good spirits, the chief said.
• Seven other people who were hurt declined medical transportation.
• Some of the bystanders who helped care for the injured were emergency responders who were tourists in town for Mardi Gras, the chief said.