productivity is hardly growing at all. A leadership contest does little to boost confidence or certainty – especially when it is laden with threats to pull the UK out of the EU without a deal.
The Johnson effect?
In today's fragile economic environment, Boris Johnson, in particular, has the potential of triggering large movements in the sterling exchange rate. Consider the popularity of Johnson by Google searches alone and how this relates to the ups and downs of the sterling currency.
Recent academic research has shown that Google search activity causes movements in financial assets. For instance, search activity related to Grexit (Greece's possible from the Euro area in 2012-13) increased the cost of borrowing in the eurozone's periphery over and above the impact of economic fundamentals and search activity for real estate increased residential real estate prices.
Similarly, Johnson appears to be having an effect on financial markets. He joined the Leave campaign in February 2016 and, as the following graph shows, there is a notable movement of his popularity (measured by the one-year rolling average of Google searches on Boris Johnson) in tandem with sterling's volatility.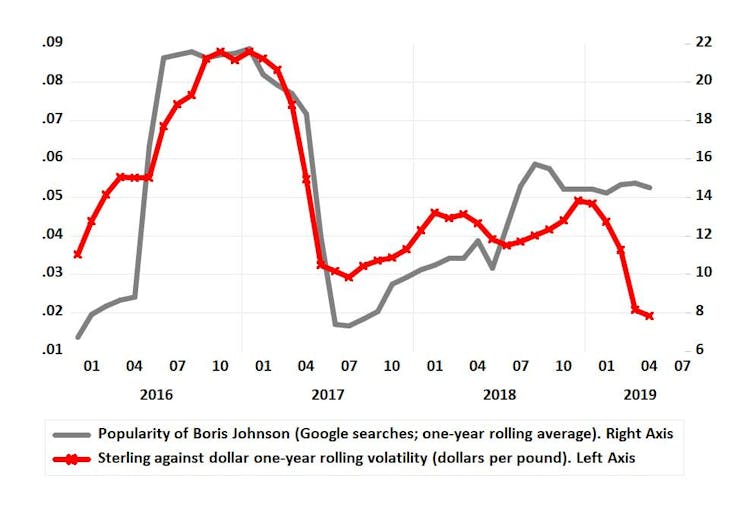 What Johnson says during the Conservative Party leadership race is instantly and extensively discussed on the internet and this has an effect in moving the value of the pound. Boris therefore has a further role to play in the future volatility of the pound – especially since he is the bookies' favourite to succeed Theresa May as prime minister and, one way or another, push Brexit negotiations over the line.
Given the considerable likelihood of him becoming the next UK prime minister, it would definitely be wise for Boris Johnson to think carefully before making statements that have the potential to move financial assets. The last thing the UK needs is a prime minister who has the potential to trigger considerable instability in its currency and therefore undermine the willingness of international investors to cast a vote of confidence in its already Brexit-battered economy.