REPORTED BY KALAHAN DENG
December 2013: President Salva Kiir (right) accused former Vice-President Riek Machar (left) of plotting a coup
Fighting between factions of the presidential guard took an ethnic turn between Dinkas and Nuers
Thousands killed and millions forced from their homes
Many accusations of atrocities, such as rape and people being burnt alive
April 2016: Machar returned to Juba under peace deal and becomes vice-president again
July 2016: Peace deal collapses, many killed and raped in Juba, Machar's forces forced to flee
Government troops accused Equatorians of harbouring rebel soldiers, reports of rebel troops targeting civilians, leading to new flow of refugees
---
In a long line of people at a nearby refugee reception centre, Otima Amos, 21, explained how he had crossed the border after walking through the bush for many days with 16 other people – most children, and among them two-year-old twins."We walked up to here – without any other form of transport," he said.
"It was very hard because they were killing people. If you were a boy you would be killed, if you were a girl or a woman they would just rape you. If not, you would be killed."
Biggest settlement
Uganda is coping extremely well with the huge influx of refugees.
With the help of aid agencies, within 36 hours each family is allocated a 30m square patch of land and a tarpaulin to set up a shelter and start planting crops.
Faida Sarah arrived in August with her children, but already has okra ready to harvest as well as onions, tomatoes and greens bursting out of the ground.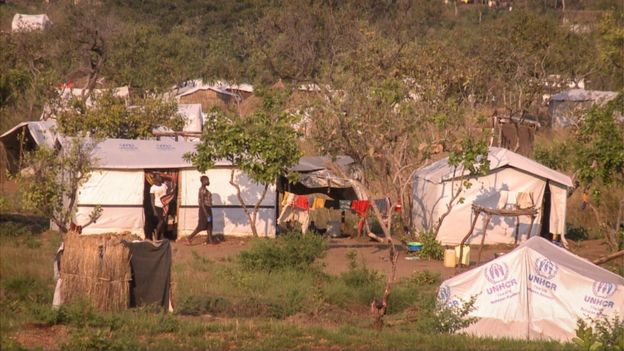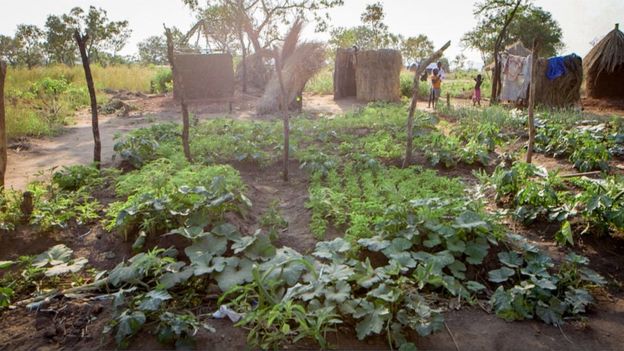 The reason she left Yei was because one night soldiers came round to her home, demanded car keys from her husband and then hacked him to death just outside the house.
In July Bidi Bidi was a village, but now it is one of the biggest refugee settlements in the world – home to more than a quarter of a million people and covering 250 square kilometres.
But now home to nearly a million refugees, Uganda is beginning to struggle with its generous approach.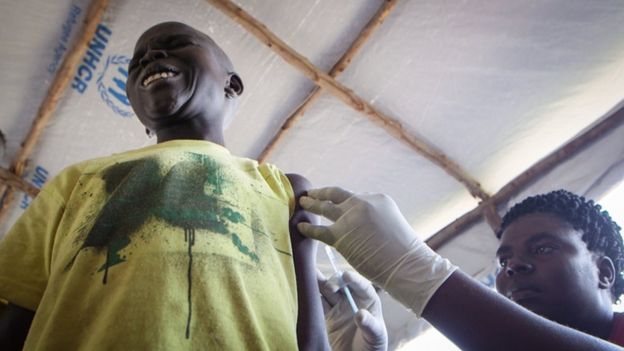 "This has been unrelenting since July," said Nasir Abel Fernandes, the UNHCR's senior emergency coordinator in northern Uganda.
"The international community has to pay attention, and pressure the South Sudanese leaders to stop this, as it's a massacre of civilians from both sides."
He says supplying water to the refugees is a problem, as it has to be trucked in.
As many as half the refugees are children, and schools are already running – exams were being marked and a presentation prepared for our visit.
Girls sang and danced in a circle then Patricia Mercy, 16, stepped forward with confidence to deliver her poem.
They were afraid they would be caught as they tried to escape.