REPORTED BY KALAHAN DENG
An Egyptian woman, believed to be the world's heaviest woman at 500kg (1,102lb), will soon be flown to India for weight reduction surgery.
Eman Ahmed Abd El Aty, 36, will be flown on a chartered plane to Mumbai where bariatric surgeon Dr Muffazal Lakdawala plans to operate.
The Indian embassy in Cairo initially denied her visa request as she was unable to travel there in person.
After the surgeon tweeted to India's foreign minister that changed.
India's External Affairs Minister Sushma Swaraj, who is herself in hospital awaiting a kidney transplant, was quick to respond with an offer of help.
Ms Abd El Aty's family says she hasn't been able to leave home for 25 years now and claims she weighs 500kg.
If the claim about her weight is true, then that would make her the world's heaviest woman alive as the current Guinness record holder is Pauline Potter of the United States who weighed 292kg (643lb) in 2010.
Dr Lakdawala, who has performed weight reduction surgeries on Indian minister Nitin Gadkari and Venkaiah Naidu, told the BBC that from looking at Ms Abd El Aty's medical reports and photographs, he believes that she weighs at least 450kg.
Ms Abd El Aty's family says she weighed 5kg (11lb) at birth and was diagnosed with elephantiasis, a condition in which a limb or other body parts swell due to a parasitic infection, Dr Lakdawala told the BBC in a phone call from Mumbai.
"They said when she was 11, she had gained immense weight because of which she could not stand up and would crawl.
"And then she suffered a stroke which left her bedridden and she has not been able to leave home since then."
Ms Abd El Aty is cared for by her mother and sister.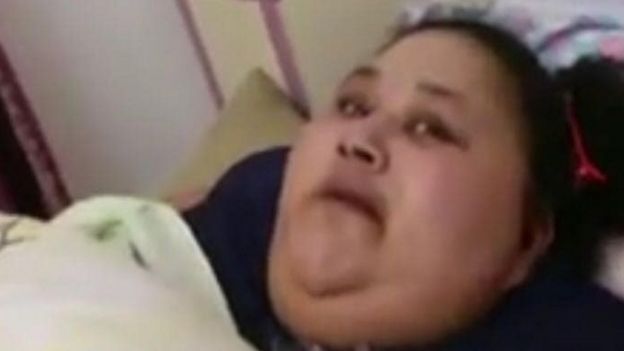 Dr Lakdawala said Ms Abd El Aty's sister got in touch with him in October and he began raising money to bring her over to Mumbai as her family was too poor and unable to bear the costs of chartering a flight.
"We are expecting to fly her to Mumbai next week as soon as the formalities are over," he said.
Dr Lakdawala believes that Ms Abd El Aty does not have elephantiasis, but suffers from obesity-related lymphoedema which causes gigantic swelling of legs.
"She would need to remain in Mumbai for two to three months for the surgery and treatment after which she would be able to return home, but it would take two to three years to bring her body weight under 100kg," the surgeon said.
"I'm hopeful that I will be able to help her, I won't say I'm confident because I think that would be an exaggeration," he added.