REPORTED BY KALAHAN DENG
Gambian President-elect Adama Barrow has called on incumbent Yahya Jammeh to accept defeat in last week's election.
President Jammeh initially appeared to concede after results showed he had clearly been defeated, but on Friday said he rejected the results "totally".
Mr Barrow said the president had "no constitutional authority to reject the results" and demand another election.
The African Union (AU) has also condemned Mr Jammeh's latest statement, describing it as "null and void".
Mr Barrow urged his rival to allow "a smooth transfer of executive powers in the supreme interest of this country".
President Jammeh's reluctance to accept the result has criticised by the US and neighbouring Senegal.
Mr Barrow's spokesperson said the head of the army, General Ousman Badjie, supported the president-elect, having pledged allegiance after the initial result.
The BBC's West Africa correspondent, Thomas Fessy, says the main question now is whether the Gambian leader has managed to split the army, retaining a faction ready to back his announcement.
AU chairperson Nkosazana Dlamini-Zuma said Mr Jammeh's latest statement was "null and void" because he had already conceded defeat.
The US had also urged to Mr Jammeh to accept the results.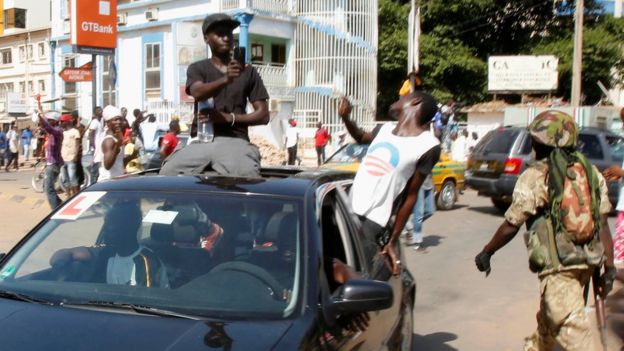 According to the electoral commission, the results of the vote on 1 December was:
Mr Barrow won 222,708 votes (43.34%)
President Jammeh took 208,487 (39.6%)
A third-party candidate, Mama Kandeh, won 89,768 (17.1%)
Mr Barrow, a property developer, is due to take office in late January.
The Gambia is the smallest country on mainland Africa, with a population of fewer than two million.
In his 22 years in power, Mr Jammeh acquired a reputation as a ruthless leader.