KALAHAN DENG
It's true to say that the world have never seen such mass protests against the United States New President .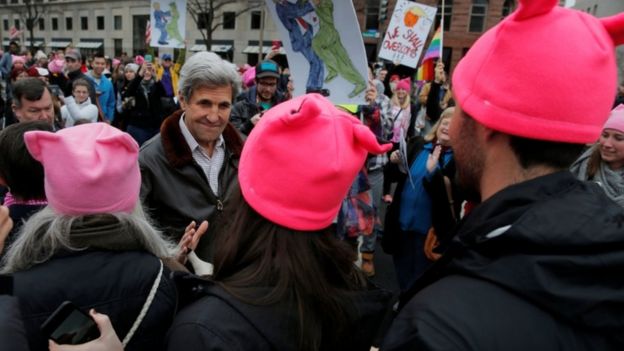 Hundreds of thousands have massed for a "Women's March on Washington", part of a global day of protests against new US President Donald Trump.
The rally is one of more than 600 being held worldwide on the president's first full day in office.
The aim is to highlight women's rights, which protesters believe to be under threat from the new administration.
Mr Trump attended a multi-faith service at Washington National Cathedral and then visited the CIA's HQ.
In a speech there he said he was "1,000%" behind its employees and also railed against a "dishonest" media. He did not refer to Saturday's protests.
'We are the majority'
Protesters swarmed the streets and metro stations of the US capital on Saturday as they headed to the National Mall to hear speeches from Scarlett Johansson, Ugly Betty star America Ferrera, Ashley Judd, Gloria Steinem and Michael Moore among others.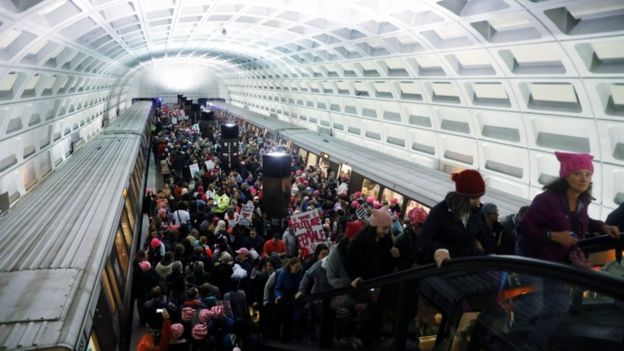 Organisers had originally sought a permit for 200,000 people but later said they were expecting as many as half a million, which would dwarf Friday's inauguration crowd, the Washington Post reported.
A planned march to the White House proved impossible as the entire route was filled with demonstrators. Interim DC Police Chief Peter Newsham told Associated Press: "The crowd stretches so far that there's no room left to march."
But there are other protests in some 300 cities across the US, from New York to Seattle. The scale of the turnout in Chicago prompted police to designate it a rally rather than a march.
Organisers of a London rally said between 80,000 and 100,000 people had taken part there.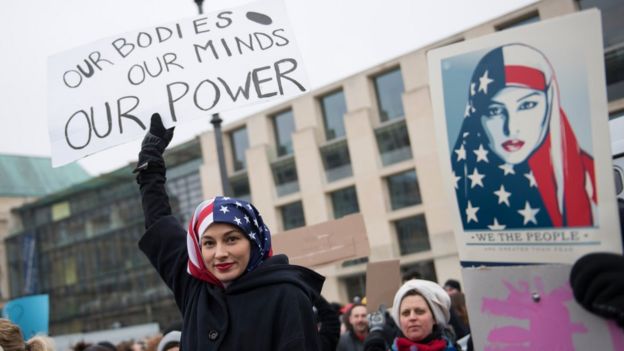 During his speech in Washington, Michael Moore ripped up a copy of the Washington Post, saying: "The headline was 'Trump takes power'. I don't think so. Here's the power. Here's the majority of America right here. We are the majority."
The singer Madonna also made an appearance, swearing several times in a speech carried live by major US TV networks.
"Yes I am outraged. Yes, I have thought an awful lot about blowing up the White House," she said.
America Ferrera told the crowd: "We march today for the moral core of this nation, against which our new president is waging a war."
Many women have knitted pink "pussy hats" – a reference to a recording that emerged during the election campaign in which Mr Trump talked about groping women.